Helix P SIX DSP Ultimate  
Høykvalitets 6-kanals forsterker m/12-kanals DSP
HELIX P SIX DSP Ultimate
P SIX DSP Ultimate 6-kanals forsterkeren leverer enorm kraft og sofistikert DSP-teknologi i perfekt harmoni.
Opp til 285W RMS per kanal i 2 Ohm og integrert 12-kanals signalprosessor med dobbel prosessorkraft garanterer en uforlignelig lydopplevelse i høyoppløst kvalitet.
Audiotec's «Ultra HD Class D» filosofi fokuserer på å kombinere den utmerkede lydkarakteristikken fra klasse-AB teknologi med effektiviteten til en digital forsterker. I tillegg til mengder av integrerte funksjoner og egenskaper, f.eks. ACO plattformen, de optiske digitale utgangene, og mye mer , så er det bare èn ting å si:
P SIX DSP Ultimate er i en egen liga!
Helix P SIX DSP Ultimate har et bredt spekter av inn- og utganger (6 x høynivå, 6 x RCA, 1 x optisk SPDIF, 1 x coax SPDIF, 1 x HEC, 4 x RCA ut og 1 x optisk ut) og byr på alle muligheter for enkel integrasjon med fabrikkmonterte bilradioer eller multikanals OEM lydsystemer. Med et utvidet spenningsområde på opptil 32V RMS på inngangene gjør at P SIX DSP Ultimate kan kombineres med nær sagt alle tenkelige analoge signalkilder, selv høyytelses OEM forsterkere.
Videre gir den optiske digitalutgangen muligheten for digital signalvei videre til rene forsterkere – f.eks. P ONE mk2 eller P TWO mk2.
State-of-the-art teknologi og TwinDSP kraft og ultimat høyoppløst lydopplevelse
P SIX DSP Ultimate er utstyrt med to av de kraftigste 64bit lydsignalprosessorene fra Analog Devices. Dette gir en utrolig prosesseringskraft på 2,4 milliarder MAC operasjoner per sekund, kombinert med en samplingsfrekvens på 96 kHz som resulterer i en båndbredde på over 40 kHz. Sammen med BurrBrown D/A og A/D konvertere sikrer man med P SIX DSP Ultimate en enestående høyoppløst lyd.
I tillegg er hele lydsignalveien – inkludert den nye og kraftigere strømforsyningen – optimalisert ned til den minste detalj.
ACO ? Advanced 32 Bit CoProcessor-plattform
Selvfølgelig er P SIX DSP Ultimate også utstyrt med den kraftige 32 bits ACO-plattformen. Ikke bare utfører den alle operasjoner ultraraskt, men gir også lynrask bytting mellom opptil 10 forskjellige lydoppsett. Men ACO byr på mye mer. Den har kanalseparert Input EQ som inkluderer Input Signal Analyzer (ISA) for enkel analyse og kompensering av inngangssignaler fra OEM radioer, og fantastiske lydeffekter som Augmented Bass Processing eller RealCenter.
DSP PC-Tool 5 inkl TuneEQ
Selvfølgelig kan Helix DSP PRO mk3 enkelt konfigureres via Audiotec's nye profesjonelle og eksepsjonelt intuitive DSP PC-Tool 5. Utallige innstilingsmuligheter med omfattende lydprosessering sikrer en ekstremt presis lydjustering selv i kompliserte oppsett. Takket være den nye proprietære TuneEQ (automatisk frekvenskorreksjon) kan du også spare mye tid ved optimalisering av ditt lydsystem.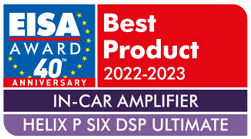 Egenskaper:
Opptil 285W RMS utgangseffekt per kanal i 2 Ohm
Ultra HD klasse D kombinerer lydkvaliteten til Klasse AB-teknologi med det beste fra Klasse D forsterkere
TwinDSP Power – to ekstremt kraftige «fixed point» DSP med 64 bit oppløsning og 2,4 milliarder MAC operasjoner per sekund
BurrBrown D/A og A/D konvertere
TwinDSP – to ekstremt kraftige «fixed point» Audio DSP'er med 64 bits oppløsning og 2,4 milliarder MAC-operasjoner per sekund
Advanced 32 bits CoProcessor (ACO) for utvidet funksjonalitet
* Input Signal Analyzer (ISA) og InputEQ
* Proprietær TuneEQ funksjon for automatisk justering av EQ
* SFX (DSP Sound Effects), Augmented Bass Processing, RealCenter
* 10 interne minneplasseringer for lydoppsett
VCP (Virtual Channel Processing) tillater enda mer fleksible konfigurasjoner for kompliserte systemer
HEC-spor for systemutvidelser for ekstra inngangs-/utgangsmoduler som Bluetooth® Audio Streaming, Høyoppløselig Audio Streaming via USB etc.
Høyytelses 6-kanals høynivåinnganger med opp til 32V inngangsfølsomhet og ADEP.3 krets
Start-Stop funksjonalitet (ned til 6V)
Optisk digital utgang i SPDIF-format (96 kHz)
Kompakt, fremtidssikker Smart Control Port (SCP)
Tidskorrigering med opptil 20ms forsinkelse per kanal, i tillegg reversert tidskorrigering for fasesummering av inngangene
Enkel konfigurasjon via den intuitive DSP PC-Tool programvaren
12V og 24V kompatibel
Det er fullt mulig å drive HELIX P SIX DSP Ultimate både med 12V og 24V strømforsyning uten noen form for endringer på forsterkeren. Uavhengig om den drives av 12V eller 24V strøm har forsterkeren helt like ytelesesegenskaper. Med andre ord en fleksibilitet langt utenfor det normale.
Start-Stop-funksjon
Strømforsyningen til P SIX DSP Ultimate sikrer en konstant intern forsyningsspenning, selv om batteriets spenning faller til 6 volt ved Start-Stop som ofte er på nye biler idag.Hvis forsyningsspenningen faller under 10,5 volt i mer enn fem sekunder, går forsterkeren til «Protect mode» (Status LED lyser rødt) for å unngå ytterligere utladning av bilens batteri.
Augmented Bass Processing
Audiotec Fischers egenutviklede «Augmented Bass Processing» består av de to revolusjonerende lydfunksjonenen «Dynamic Bass Enhancement» og «SubXpander». Denne funksjonen er spesielt utviklet for å dramatisk forbedre bassgjengivelsene fra basselementene. «Dynamic Bass Enhancement» kombinerer maksimal dypbass og høyt lydtrykk på en genial måte helt uavhengig av type musikk og lydinnstillingene på orginalradioen. Avhengig av inngangssignalet forsterker «Dynamic Bass Enhancement» det lavere frekvensområdet samtidig som det varierer frakoblingsfrekvensen til det subsoniske filteret. Resultatet er en betydelig kraftigere og dypere bassrespons ved lave og middels volumnivå uten risiko for å overbelaste basselementene, verken mekanisk eller elektrisk ved høyt volum. Det er rett og slett bare fascinerende hvilken bassytelse som plutselig er mulig å fremkalle. Dersom du ønsker en enda lavere og «mørkere» bassgjengivelse, så kan «SubXpander» også aktiveres. Da vil bassharmoniske toner legges til grunntonene i frekvensområdet mellom 50 og 100 Hz.
RealCenter
RealCenter-funksjonen er en algoritme utviklet av Audiotec Fischer som bruker musikkinformasjon fra både høyre og venstre frontkanal for å lage et helt unikt senter-signal. I motsetning til den mer tradisjonelle metoden hvor kanalene bare legges sammen, vil Audiotec Fischers metode styre intensiteten dynamisk ved hjelp av det stereofoniske informasjonsinnholdet til både venstre og høyre kanal. Metoden høres kanskje komplisert ut, men effekten er helt forbløffende. Dette betyr at dersom bare en av høyre eller venstre kanal leverer et lydsignal, så vil ikke senterkanalen gjengi signalet. Ved felles algoritmer reduseres volumnivået til senterkanalen bare med 6dB. Audiotec Fischers «RealCenter» gir altså en unik, utvidet og mye mer korrekt lydplassering for både sjåfør og medpassasjerer på samme tid. Ulempene ved en tradisjonell type senterkanal som ofte oppleves som påtrengende og feilplassert i det totale lydbildet, hører nå fortiden til.
Smart høynivå-inngang ADEP.3
Moderne radioer i de nyeste generasjoner biler har ofte sofistikerte muligheter for å diagnostisere høyttalerne i bilen. Mange har avanserte overvåkingsfunksjoner slik at man får feilmeldinger ved tilkobling av ekstern forsterker (f.eks. pga feil deteksjon av faderfunksjon eller feil motstand).
Dette unngår man med P SIX DSP Ultimate! Den nye ADEP.3 kretsen (Advanced Diagnostics Error Protection 3.gen) gjør at man unngår alle disse problemene ved å ikke belaste den originale radioens høyttalerutganger unødig ved høyt volum.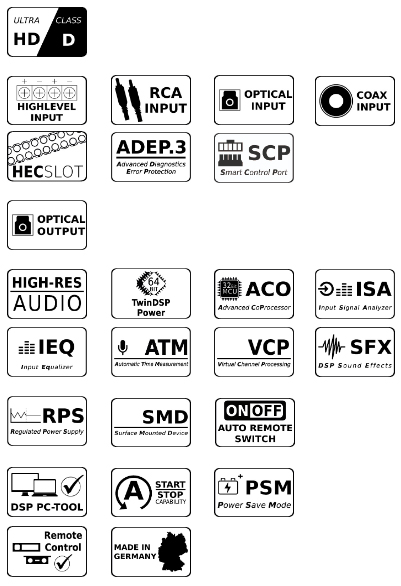 Tekniske data:
Innganger:
6 x RCA
6 x Høynivå
1 x Optisk SPDIF (12 – 96 kHz)
1 x Coax SPDIF (12 – 192 kHz)
1 x remote/styrestrøm
Utganger:
6 x høyttaler
4 x RCA (3V RMS)
1 x Optisk SPDIF (96 kHz)
2 x remote
RMS utgangseffekt etter CEA-2006-A standard:
Kanal A – F: 6 x 120W RMS @ 4 ohm
Kanal C – F: 4 x 230W RMS @ 2 Ohm
Utgangsspenning: 3 Volt
Frekvensrespons: 10 Hz – 44.000 Hz
DSP oppløsning: 64 bit
DSP kraft: 2 x 295 MHz (2.4 milliarder MAC operasjoner per sekund)
Samplingsfrekvens: 96 kHz
Signalkonvertere: BurrBrown (D/A og A/D)
Signal/støy-forhold digital inngang: 108 dB
Signal/støy-forhold analog inngang: 102 dB
Forvrengning (THD): < />
Dempefaktor: >100
Driftsspenning: 10,5V – 32V (ned til 6V i opptil 5 sekund)
Strømtilkobling: 12V / 24V DC – 65A max
Fysiske dimensjoner: 26 x 19 x 5 cm (B x D x H)
I esken:
1 x Helix P SIX DSP Ultimate
1 x Control Input til SCP adapter
1 x USB kabel
Unbrakonøkler
Monteringsmateriell
Instruksjonsmanual
---
Audiotec Fischer – Innovative Car Audio
Siden oppstarten i 1990 har tyske Audiotec Fischer utviklet seg fra en nisje-leverandør til en verdensledende aktør innen innovative lydprodukter, og har en høy anerkjennelse i hele bransjen.
Audiotec Fischer leverer i dag MATCH, HELIX og BRAX til mer enn 50 land, og er også svært viktig for oss hos Bass Brothers. Både MATCH, HELIX og BRAX er synonymt med kvalitet, og produktene benyttes i en stor mengde av våre pakke- og Plug&Play-løsninger.
For Audiotec Fischer er «Made in Germany» mer enn bare en merking på opprinnelse. Det er en løfte om kvalitet som alle i lokalene i Schmallenberg føler seg forpliktet til, og det strekker seg langt utover selskapets interne avdelinger. Her fortrekkes samarbeid med regionale leverandører for å gjenspeile «Made in Germany», og komponenter av høyeste kvalitet er et lysende eksempel på de høye standardene Audiotec Fischer setter på produktutviklingen.